LOCAL BUSINESS. GLOBAL VISION.
ETL is a European cultured professional services firm headquartered in Essen, Germany, with more than 50 years of history and a strong SME focus.
Based on the decades of success with an integrated approach combining tax, legal, audit and accounting, ETL has meanwhile grown to more than a thousand tax and law professionals, accountants, auditors as well as business consultants.
ETL GLOBAL is a worldwide interdisciplinary network of professionals and the international business platform for ETL. This is where ETL GLOBAL partners share their knowledge, skills and expertise, supporting each other in close collaboration and, most importantly, jointly serving clients in their international business.
Globalisation does not stop at SME. Nowadays, businesses of all sizes seek international advice. ETL GLOBAL offers enormous opportunities, tools and a unique platform to companies and entrepreneurs, especially in the SME sector.
ETL's exceptional experience and history are a significant advantage of ETL GLOBAL that both clients and cooperation partners can benefit from. All growth and success has been based on committed partnerships and long-term relationships. 
"ETL GLOBAL offers a highly personalised service and individual solutions with a special focus on the demands and expectations of SME."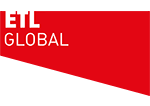 LOCAL BUSINESS. GLOBAL VISION.