ETL Global International Desks
In a globalising world, businesses are growing across borders which means they have to deal with more and more legal obligations in an ever increasing number of jurisdictions. This is a challenging task especially for SMEs without own ressources abroad. At ETL Global, we are prepared to help our clients find their way outside their respective home countries but in their own languages and business cultures.
MORE INFORMATION ABOUT OUR SERVICES
ETL GLOBAL is excited to announce further awards and nominations for their...
ETL GLOBAL is delighted to announce two new additions to the Spanish arm of...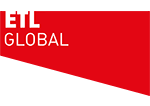 LOCAL BUSINESS. GLOBAL VISION.