We are thrilled to announce the outstanding achievements of ETL GLOBAL in the International Accounting Bulletin (IAB) World Survey 2023 and the Accountancy Age's (AA) Top 25 International Networks 2022 Ranking.
In the prestigious IAB World Survey, ETL GLOBAL has maintained its position among the top international networks, ranking as the 3rd largest accounting network in Europe after the Big 4 and 15th worldwide. Not only has ETL GLOBAL demonstrated its global success, but it has also showcased its continued growth, with a remarkable 9% turnover increase (despite the opposing trend of the USD/EUR exchange rate). In fact, ETL GLOBAL is proud to have turned out as the number one professional service provider for SME clients in Europe!
In AA's Top 25 International Networks 2022 ranking, ETL GLOBAL has fallen from 15th to 16th place. This is due to the entry of a new player, CLA Global, who has taken the 15th spot. Nevertheless, ETL GLOBAL is confident that it will be able to advance positions in the near future.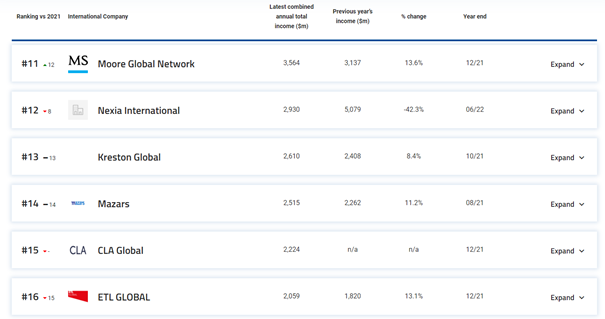 With its strong team of professionals, ETL GLOBAL is well-positioned to continue its upward trajectory in the coming years. As a trusted and reliable partner to SMEs, ETL GLOBAL remains committed to building lasting relationships and delivering value to its clients. A big applause to all Members of ETL GLOBAL who have been and continue to be the foundation and driver of its growth and success!